Smart Marketing
Websites | Video | Social | SEO | Graphic Design | Church Media
 A Full Service Digital Marketing Agency
Contact Us
Get a Quote
Understand Your Customer
Hows your brand?
Most businesses are struggling with their online marketing.  They are failing to produce the results that they need. Understanding how your customers think helps you create brand loyalty.
Buy from brands who share their values

77%

77%

Need to trust a brand to buy from them

81%

81%

Will Unfollow a brand for overpromoting

46%

46%

Will Leave your website if loading time > 3 sec

53%

53%
Digital Marketing
Smart Marketing can manage your entire internet presence. We have departments that focus on key areas to give you a total digital marketing solution. Our team is passionate about digital marketing and can help with design, websites, social media, video, and SEO.
Find out who we are and what we can do!
Search Engine Optimization
Search Engine Optimization, or SEO, reveals if your website is worth showing in search engine results. How do you do it?  That's where we come in.
Graphic Design
Many businesses use print media to tell their story.  We can help with logos, brochures, business cards, and flyers. Check out all of our design services!

""This company did an AMAZING job putting together our churches website! The best part about all of it was how personal and accommodating they were! Highly recommended!""
Jason Jordan
Pastor / West Side Church

"The clear thinking team immersed themselves in Pack's Doit Center's daily activities and developed an ever evolving plan to take our message to our end users. They create discipline in their consistent weekly approach to achieving results."
Randy Stricker
Owner / Pack's Do It Center

"A local company with big business solutions! They took on a several big tasks for us and delivered! Love the professionalism and personal touch. Highly recommend for any business or up and coming brand!"
Christy Shawan
VP – Operations/Saint Francis Medical Partners Southwest.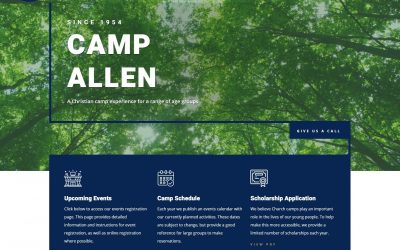 Camp AllenCamp Allen is a non-profit organization that provides a Christian camp experience for a range of age groups. We were able to do a redesign of their website and help streamline their online camp registration. With an updated easy to follow layout, signing up...
read more